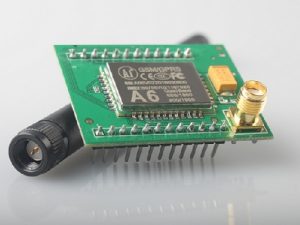 A6 GSM / GPRS core development board zasnovan na  GPRS A6 modulu podržava dual-band GSM/GPRS.
Malih dimenzija sa naprednom power save opcijom, u sleep modu  potrošnja je 3mA.
–  quad-band network, 850 / 900 / 1800 / 1900MHz
–  DC 5V,  2A
– Onboard Micro SIM card holder,
– Onboard Micro USB interface for external power supply
– Communication Interface: TTL serial port
– Baud rate: 115200bps
– Interface logic voltage: 3.3V
– Make and answer phone calls using a headset and electret microphone.
– Send and receive SMS messages.
– Send and receive GPRS data (TCP/IP, HTTP, etc.) .